Which are the best in Soave? Discover our list with photos, descriptions and tasting of the best 20 of Soave. From the most famous wines to the lesser known ones of the best Soave wineries.
INDEX:
SOAVE DOC
Soave DOC is certainly among the best Italian white wines. It is a DOC white wine produced in the province of Verona obtained from the Garganega and Trebbiano di Soave vines plus any other complementary ones.
Soave is a wine with a floral character of good flavor and structure. It gives life both to wines for daily consumption and to wines of great complexity, elegance and aging potential.
Garganega
Garganega is one of the oldest varieties in Italy, traditionally linked to Soave. The most common varietal aromas include notes of white flower, apricot, sweet apple and citrus and the classic almond finish. Thanks to the good level of acidity, the wines obtained from Garganega are also suitable for drying, the Recioto di Soave.
Trebbiano di Soave
Trebbiano di Soave is a low-yield Verdicchio clone, today it represents a niche of the vineyards planted in the Soave Classico, where the more productive Garganega is preferred. Trebbiano di Soave brings structure and body, but also aroma precursors (norisoprenoids) which with aging can increase the aromatic complexity of wines.
SOAVE TERROIR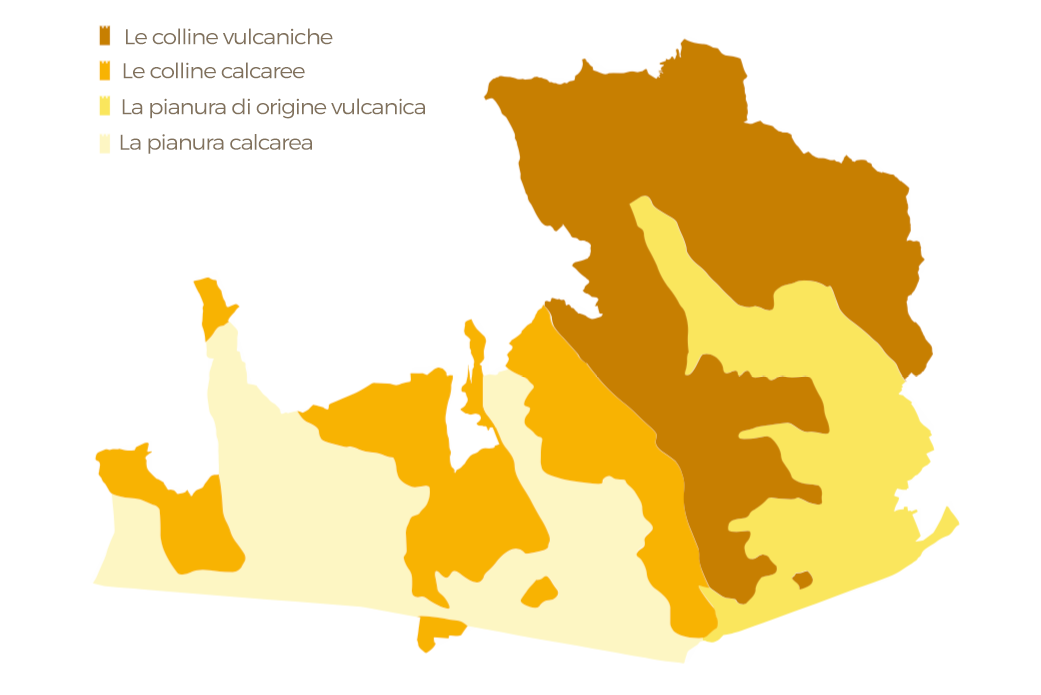 The winemaking tradition in Soave has a long history: it was in fact an important center during the Roman Empire since 150 AD. Praised by Virgil and Suetonius, Soave was also one of the favorite wines of Emperor Augustus.
The Soave territory is located along 45 ° north parallel, a crossroads of the greatest wines in the world. Here the climate is mild and temperate and marked temperature variations between day and night favor aromatic precursors that enhance the varietal aromas of the grapes.
From the point of view of the soils, the Soave Classico consists of volcanic and limestone hills and valleys.
On the volcanic hills the wines of Soave acquire great freshness and flavor, in the limestone hills the notes of exotic and citrus fruit are emphasized, in the most fertile area of ​​the Valle di Monteforte the wines are characterized by balance and persistence and in the plains of Soave and Colognola the floral nuances of Soave are more explicit.
BEST 20 SOAVE WINES – Recommended by Jean Marco Palmieri
What are the best wines of Soave?
So let's see together a list of the 20 best Saove wines and discover their characteristics with our tasting so that everyone can find the best Soave wines suited to their tastes.
Soave Classico 'La Rocca' 2019 – Pieropan
Description: Strong notes of quince and verona peaches, viennoiserie and wild finch emerge on the nose.
The sip is silky, full and soft, supported by a nice acidity that stretches towards an imperishable persistence and continuous fruity and sweet spice echoes.
One of the most virtuous elegant interpretations of Soave. Deservedly among the best Soave for masterful enhancement of the oenological potential of Garganega.

Grapes: Garganega 100%
Soave Classico 'Monte Carbonare' 2019 – Suavia
Description: Brushstrokes of chamomile, broom and mandarin and leave room for notes of apricot and salty hints.
On the sip it flows smoothly, supported by a strong acidity that culminates in a savory and creamy finish.
Suavia's Soave Classico Monte Carbonare is a strong wine with seductive and multifaceted aromas. Creamy but at the same time saline, to be counted among the best Soave for balance, persistence and olfactory expressiveness.

Grapes: Garganega 100%
Soave Classico Colle Sant'Antonio 2016 – Prà
Description: It opens in a riot of aromatic sensations ranging from notes of pineapple and white melon mixed with hints of Mediterranean scrub and melted butter.
The mouth is lively, punctuated by a pleasant acid blade that makes the sip salty and snappy. Sensational persistence finish.
The Soave Classico Colle Sant'Antonio di Prà is a whimsical wine with an authentic character obtained from the indigenous Garganega grape. Among the best Soave for its multifaceted, delicate and refined aromas.

Grapes: Garganega 100%
'Vecchie Vigne Contrada Salvarenza' Soave Classico 2016 – Gini
Descrizione: Papaya, mango e pesca gialla matura si fondono a timbri speziati e di pietra focaia. Al palato scorre morbido e profondo, con un netto taglio roccioso dagli echi salmastri. Finale lungo di grande armonia.
Da viti centenarie a piede franco nasce un Soave Classico dal carattere raffinato e seducente, da annoverare tra i migliori Soave per la spiccata sapidità minerale che ritma la beva.
Vitigni: Garganega 100%
Soave Classico Vigne di Foscarino 2019 – Inama
Description: Notes of alpine flora, grapefruit and passion fruit blend with hints of fragrant croissants and medicinal herbs embellished with hydrocarbon stamps.
In the mouth it is fresh and snappy, supported by a granular iodine presence. Fruity finish of extraordinary persistence.
Inama's Soave Vigne di Foscarino amazes us with its eloquent refinement of aromas and the maximization of Garganega. Virtuous interpretation in its own right among the best Soave.

Grapes: Garganega 100%
Soave Classico Alzari 2020 – Coffele
Description: A riot of ripe and tropical yellow pulp fruits that fade towards aromatic herbs, candied orange peel, medicinal herbs and acacia honey.
A strong white wine with a meditative character: the palate is savory and enveloping while the aromas are characterized by unusual finesse.
Fully among the best Soave wines for sharpness of aromas and persistence.

Grapes: Garganega 100%
Soave 'Le Bine de Costiola' 2019 – Tamellini
Description: Brushstrokes of chamomile, melon and yellow peach mix with toasted tones and brackish sensations.
On the palate it is pressing, punctuated by a pleasant acidity that makes the sip long and drinkable. Sapid-fruity finish with good persistence.
Tamellini's Le Bine de Costiola is a lively and multifaceted wine, which bets with skill and success on native varieties. Among the best Soave for precision, harmony and drinkability.

Grapes: Garganega 100%
Soave La Broia 2017 – Roccolo Grassi
Description: Orange blossom, tangerine peel and yellow peach stretch over sage and saltiness.
On the palate it is soft and snappy, punctuated by a very pleasant acid vein that lengthens the drink towards a finish with citrus and floral memories.
A label in which the juiciness of the fruit and the fresh flavor make the sip broad and satisfying. Deservedly among the best Soave.

Grapes: 100% Garganega
Soave Classico Monte Fiorentine 2020 – Ca' Rugate
Description: Bouquet articulated on notes of broom, hawthorn, white peach and medlar, embellished with citrus and mineral brushstrokes.
The sip is large and snappy, driven by a savory note that leaves the mouth fresh and satisfied.
A strong wine, with an authentic and well-defined character. Among the best Soave for its rich and tonic sip.

Grapes: Garganega 100%
Soave Vecchie Vigne 2018 – Tenuta Sant'Antonio
Description: Fragrant olfactory range, with floral and fruity notes of apricots and peaches in syrup that blend with hints of graphite and custard.
On the palate it explodes full and very soft, with a good sapid-mineral boost that gives presence and character to the sip.
A masterful interpretation of the Garganega grape: surprising and captivating, Vigneto Rucata is a synthesis of creaminess and freshness.
Fully qualified among the best Soave.

Grapes: Garganega 100%
Soave Corte Sant'Alda 2020 – Corte Sant'Alda
Description: Nose rich in facets, between citrus and vegetal hints on a background of sage and yellow peaches. In the mouth it is fresh and strong, with a pleasantly juicy and salty finish
A vibrant and drinkable white, made by an artisan of great depth. Fully among the best Soave for originality, character and frankness.

Grapes: Garganega 80%, Trebbiano di Soave 20%
Which are the best Soave wines?
Which are the best Soave? Choosing is a difficult undertaking, which however inevitably is subject to the limits of a subjective opinion, which as such, by definition, is deficient and arbitrary.
We have simply compiled a list of our favorite interpretations according to our evaluations. However, it remains essential to underline that wine is not born as a status symbol, to be exhibited or flaunted coram populo.
But to excite us and be shared in a genuine way with the people we love, binding ourselves to contingent situations and to the unrepeatable and intimate moments of our life.
Therefore, we invite you to visit wineries and get to know the producers who produce wines in their uniqueness, so that you can independently discover and choose the wine that can be counted for you among your personal favorite wines. If you have had the patience to read this far, thank you for your attention, but now is the time to fill the glasses and cut distant hopes, and therefore:
Cheers, Salute, Santé
Jean Marco Palmieri